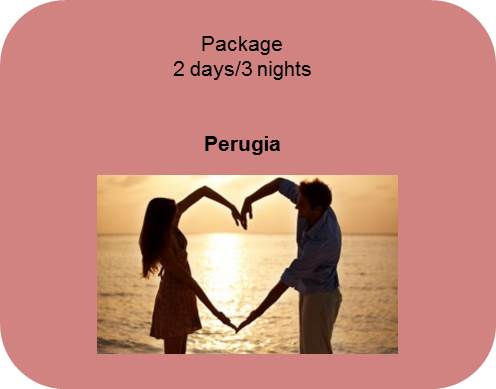 3 days / 2 nights
PERUGIA
First day – Perugia
Electric car delivery
Chek – in at 11.00 am to the hotel
A relaxing couple's massage for you at the Spa of this beautiful charming residence among the wonderful Umbrian countryside valleys. The treatment, exclusively for the body and designed for couples, offers a complete wellness and it runs in the magical atmosphere of a garden * (depending on the weather conditions, if it was not possible the treatments will be carried out in the relaxation area), a sweet end with champagne and chocolates. Candle light dinner. Overnight at Hotel.
Second day – Perugia
Breakfast at the hotel. Perugina Chocolate School with the course: "Manufacture and decorate your chocolate". Your personalized chocolates, from ingredients to the form that your fantasy will suggest you. A lovely gift for you or for those you want. At the end of the course you will receive a diploma or a certificate of participation, the Chocolate School apron and of course, the artistic chocolates. Romantic dinner at selected gourmet restaurant and overnight at Hotel.
Third day – Perugia
Breakfast at the hotel.
Drop – off at 10.00 am
Full day to discover the wonderful villages and romantic landscapes that surround Perugia and the Trasimeno Lake with the electric car.
At 5.00 pm electric car redelivery.
Package without accomodation:
3 days / 2 nights
GOLD € 396  
Package with accomodation:
3 days / 2 nights
GOLD € 600
Prices per person for a minimum of 2 participants
The price includes
Package without accomodation:
electric car (Zoe model) rental
card for free and unlimited car charging
a candle light dinner
a gourmet dinner
the course: "Manufacture and decorate your chocolate"
a couple's massage at the Spa
the Umbria Green Card
insurance
Package with accomodation:
electric car (Zoe model) rental
card for free and unlimited car charging
two nights in charming residence
bed and breakfast
a candle light dinner
a gourmet dinner
the course: "Manufacture and decorate your chocolate"
a couple's massage at the Spa
the Umbria Green Card
insurance